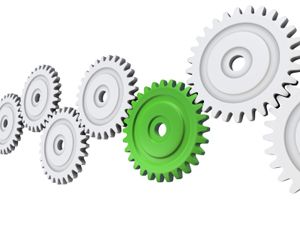 Our Departments
In working with us, you will find that our company is not overly regimented. Everyone understands their role but is willing to help out wherever needed to see a job through. You'll never hear a member of our staff say, "that's not my job." Though we believe whole-heartedly in this open approach, it's necessary to separate our company into a few departments. Whether it's Customer Service or production, it takes all our departments working together to make our clients look their best.
DIGITAL PRINTING

This is the bread and butter of our company. Our equipment runs day and night to meet the needs of our customers. At Print Turnaround we are using state of the art technology for your digital printing needs. Have a repeat order? Not a problem, our equipment allows us to store jobs on our system for the convenience of our customers. At Print Turnaround our operators are some of the most qualified in the business, and are here to ensure the quality of our products.

PRINTING SERVICES

Here at Print Turnaround we provide a full range of digital and conventional printing. We are able to print everything from brochures to business cards. Our printing technicians have the expertise and knowledge to get your job done right. We utilize proven technology and equipment to ensure that our printed products are of the highest quality. Our professional press-operators are masters at maintaining ink consistency and coverage, maintaining accuracy, and meeting tight deadlines.

VARIABLE DATA PRINTING

Variable data printing, is effective for any items that would benefit from personalization. Customizing information is not limited to the name and address, but can be used throughout the mail piece, and to change the text and images to suit an individual recipient. Our high-speed digital equipment can produce these easily. Call us to discuss how this service could improve the effectiveness of your mailing.

BINDERY SERVICES

Our bindery services department handles everything from basic cutting, folding and laminating to more elaborate mail preparation and booklet-making services. Our full range of bindery services allows every job we produce to go out the door ready for distribution.

MAILING SERVICES

We offer complete mailing services accommodating jobs of up to 1 million pieces. We use updated postal software to eliminate bad addresses and automate mail to save you money. When it comes to getting your job done we can take it from step one to your end users hands without breaking a sweat.

HAND ASSEMBLY & FULFILLMENT SERVICES

At Print Turnaround, no job is too large or small or too complex to put together. Not everything we produce can be assembled automatically. We offer custom hand assembly of complex projects, including multi-piece personalized letters and packages and just about anything in an unusual size or shape. We also offer a fulfillment services as well. This service entails product storage at our warehouse so that customers can simply give us an order and we can ship it anywhere in the world.